X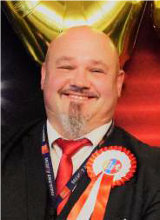 Tony Doran
VSK Headteacher
What is your job role and what does this mean?
I head the Virtual School Kent which is responsible for promoting and improving educational standards for Children in Care and Young Care Leavers of Kent. I am responsible for the coordination of services provided by VSK such as:
Supporting key colleagues (Social workers, Foster carers, Designated Teachers, School Leaders, School Governors, IROs and your Corporate Parents) in understanding their roles and responsibilities in promoting your education and ensuring that they have the highest aspirations for you.
Providing information advice and guidance for you and for the key professionals who may work with you.
Ensuring effective systems are in place to offer extra support.
Ensuring you are at the centre of what we do and that we listen. We do this through our Participation & Engagement Team who run the activity days, children in care councils (Super Council, OCYPC and YAC) and Kent Cares Town website to name but a few specific activities.
How did you end up working in this job role?
I had been working in Educational Leadership for many years specialising in improving school culture and inclusion. This led to some consultancy opportunities which led to me being selected as an educational behaviour expert in the National Behavioural Review within the Prime Ministers Delivery Unit (PMDU) and subsequently the National Strategies. This experience of Central and Local Government work coupled with my passion for inclusion and working with disadvantaged groups of young people inspired me to search for and eventually secure the post of Virtual School Headteacher.
What is the best thing about your job?
That's easy, it's seeing the great outcomes achieved by the amazing young people that I serve. I especially look forward to days like the VSK Talent Showcase and the VSK Achievement Ceremonies in September and October.
Tell us one fact about you that young people might like to know?!
I was a Welsh International Athlete. Well athlete is pushing it…. I used to throw the Discus and Hammer for Wales.